40 anni fa l'animazione entrava a far parte nell'universo di Star Wars, presentando un personaggio che sarebbe divenuto leggendario: Boba Fett. Il connubio tra il mondo di Star Wars e il cinema d'animazione può sembrare essere una scoperta recente, basta pensare a prodotti come Clone Wars e Rebel, ma non è cosi. Anzi questo legame prende piede sin dall'inizio della saga, appena dopo l'uscita del primo film "Guerre Stellari", oggi conosciuto come " Nuova speranza"
Precisamente fu nel 1978, a Toronto, Canada, quando venne chiesto allo Studio d'animazione Nelvana Ltd di creare una sequenza animata da 10 minuti da inserire in un nuovo programma televisivo, lo Star Wars Holiday Special. Star Wars Holiday Special, per chi non lo sapesse, è uno speciale televisivo di Star Wars, realizzato e subito ricusato dallo stesso. Fu trasmesso dalla CBS americana per la prima ed ultima volta il 17 novembre 1978.  Nello speciale appaiono i personaggi del primo episodio, luke, Leila e Ian, oltre all'intera famiglia di Chebacca. Al momento non esiste alcuna pubblicazione ufficiale ma solo copie della puntata trasmessa. All'interno dello speciale è però presente uno spezzone animato molto interessante, con protagonista Boba Fett.
Starwars.com ha intervistato l'animatore di quel breve spezzone, John Celestri. e noi vi riportiamo questa intervista piuttosto interessante. " Ho sempre amato le storie. Da quando avevo circa 20 anni ho scoperto la mia naturale abilità nell'animazione". Celestri era originario di New York, ed ha provato sin da subito a entrare nell'industria dell'animazione. Dopo aver lavorato al New York Insistute of Technology, ha aiutato il regista Richard Williamns nel film " Raggedy Ann And Andy". 
Tutto ebbe inizio con un il film d'animazione "a Cosmic Christmas". Questo prodotto, uscito prima del film di Star Wars, mostrava personaggi ed ambientazioni molto simili a quelli immaginati da Lucas. "L'animazione negli Stati Uniti in quel periodo era molto commerciale, ma il Canada aveva recepito una certa influenza Europea nel gusto dell'immaginario".  Per questo  Cosmic Christmas non assomigliava a nulla di quanto prodotto in California al tempo. Quando Lucas lo vide capì di voler lo studio Nelvana al lavoro sullo speciale televisivo.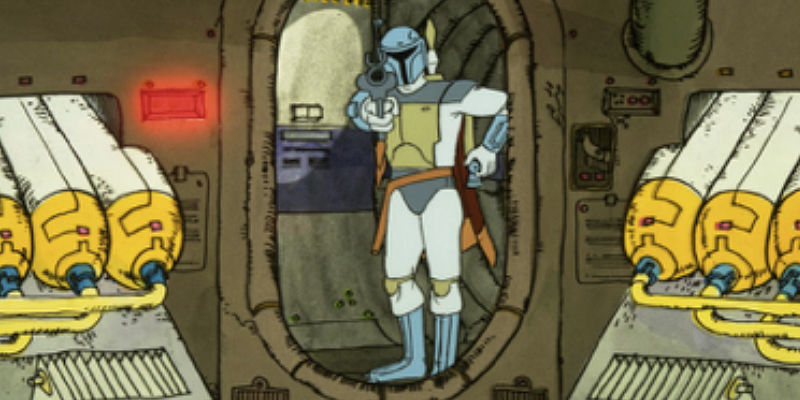 Nonostante sia stata attiva per meno di sette anni lo studio Nelvana ha dimostrato di essere un importante riferimento creativo per l'industria dell'animazione, attirando artisti come Celestri. "Eravamo nel piano alto di un magazzino di pesce a Toronto chiamato oggi Harbourfront. Ora è un'area per turisti, ma a quei tempi era attivo come pescheria. Sotto i pesci venivano lavorati, sopra noi facevamo animazione. Accanto a noi un produttore di prodotti dolciari usava una stanza per decongelare ad alta temperatura migliaia di panini. Il calore si irradiava attraverso le porte che ci separavano, ed i giganteschi riscaldatori elettrici facevano talmente caldo che alcuni animatori, tutti uomini, lavoravano a petto nudo."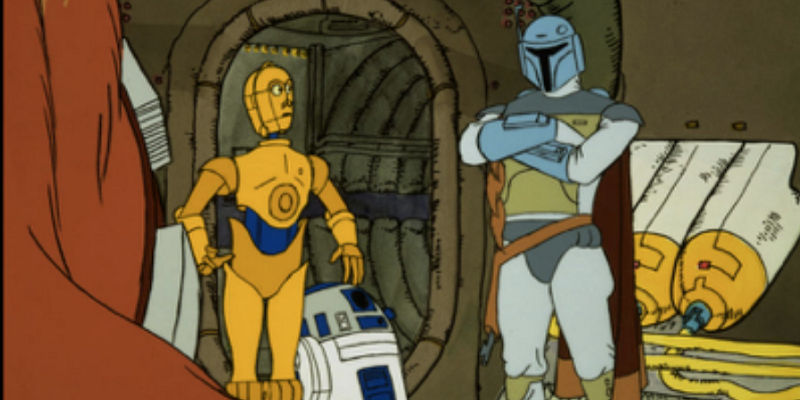 Nell'animazione Chewbacca, Luke e Han solo ed i loro compagni sono alla ricerca di un talismano mistico. Ma finiscono nei guai dopo aver incontrato Boba Fett, che inizialmente si era presentato come un'alleato, per poi rivelarsi al soldo di Dark Vader.  "Non sapevamo niente del resto dello speciale. Lo script per la sequenza animata arrivò già pronta dalla Lucasfilm.   La sequenza per Guerre Stellari" fu tutto sommato un lavoro piuttosto semplice da portare a termine. " Fu una produzione molto veloce, avevamo appena finito un film chiamato " The Devil And Daniel Mouse", e lo studio si stava ingrandendo. Credo avessimo lavorato su Star Wars per sei settimane durante la primavera del 1978. Tutta la produzione, compresa l'inchiostratura, la pittura e le finiture durò probabilmente tre o quattro mesi di lavoro. ".
"Lo stile grafico era molto moderno. Lucas aveva richiesto allo studio di copiare il design dell'artista francese Jean Moebius Giraud. Per il personaggio di Boba avevamo uno schizzo di Moebius con una piccola animazione in bianco e nero del personaggio."  Il film in bianco e nero era uno spezzone di un film di prova realizzato dalla Lucasfilm nel 1978. Ma fu d'ispirazione. Venne quindi realizzato il personaggio di Boba seguendo lo stile di Moebius, ed il suo stile di colorazione a pastello. Il colore base per Boba doveva essere il blu. Poiché spesso il personaggio appariva su sfondo scuro era importante che il suo colore fosse chiaro, perchè al tempo gran parte delle televisioni era ancora in bianco e nero.  " Dovevamo essere sicuri che si vedesse sullo schermo. al tempo il televisore più grande disponibile era un 22 pollici". Il personaggio aveva anche un'arma iconica, descritta nel brief creativo come "un Diapason". 

L'arma è poi stata ripresa in The Mandalorian. " Decisi che Boba avrebbe usato il diapason per colpire le bestie più volte. Immaginai avesse aiutato a mostrare il suo carattere." Quando poi Boba Fett venne animato Celestri intuì quanto fosse importante trovargli una postura ed un modo di muoversi da vero cattivo. La sua maschera sul volto gli impediva di utilizzare le espressioni facciali. " La cosa più difficile fu trovare un modo per farlo esprimere senza l'espressione facciale. Dovevo usare la gestualità ed il linguaggio del corpo, senza renderlo una pantomima. Si richiedeva un'economia nel movimento. Ho approcciato Boba Fett come il personaggio di Clint Eastwood negli spaghetti Western. aveva sicurezza di se ed espressioni da duro. Era un pistolero. Senza quel riferimento sarebbe stato troppo rigido. I gesti non possono essere dei cliché. Si cerca di essere differenti ma sempre dentro i limiti del personaggio. " In questo modo la debolezza del personaggio, ossia la mancanza di espressività, è stata la chiave del suo successo. 
Cosi il il 17 Novembre del 1979 alle otto di sera Boba Fett debuttò sul piccolo schermo. L'anno dopo sarebbe toccato al debutto sul grande schermo cinematografico con "L'impero colpisce ancora"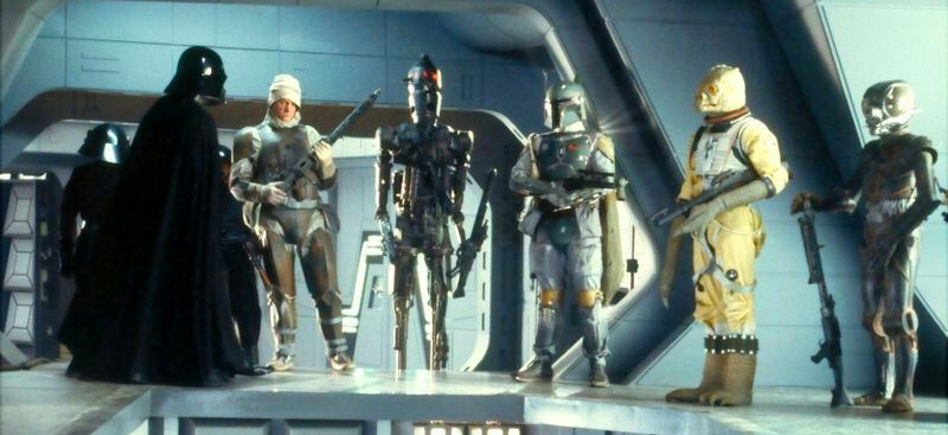 Ironicamente però i minuti in cui Boba appare nel film sono assai meno di quelli trasmessi quella sera.  Infine la società di Toronto ha di nuovo lavorato sul mondo di Star Wars con i cartoni animato di storie sugli Ewoks e sui droidi.