Un nuovo grande evento organizzato dalla mostra 'Mann@Hero – Gli eroi del mito dall'antichità a Star Wars' il grande evento del Museo Archeologico Nazionale di Napoli che dallo scorso 4 Maggio sta popolando la città partenopeo con il mito della saga creata esattamente 41 anni fa da George Lucas.  Il prossimo 26 Maggio si svolgerà un vero e proprio "Sabato Stellare" in occasione dell'uscita nelle sale cinematografiche di tutto il mondo del nuovo film "Solo: A Star Wars Story". Si comincia alle ore 12 proprio al Museo Archeologico Nazionale di Napoli dove, in collaborazione con poste italie, per tutta la giornata, verrà effettuato l'Annullo Filatelico con una serie di speciali cartoline postale realizzate ad hoc per la mostra.
Alle ore 15.30, l'appuntamento si sposta nei Giardini del Museo, per scoprire la collezioni di Astronavi, Creature aliene e Droidi in scala reale, in collaborazione con l'associazione culturale Galaxy, con la presenza di diversi cosplayer e il gruppo The Dark Side of Naples che hanno dedicato la loro creatività a Star Wars.
Subito dopo questo reveal stellare, sarà possibile visitare la sezione dell'esposizione dedicata al "Fandom Universe", per scoprire la nuova area "Star Wars Selfie Area" e la nuovissima sezione Lego Star Wars dove tutti gli appassionati potranno ammirare il nuovissimo set dedicato al Millenium Falcon, realizzato con oltre 8000 mattoncini, che fa gola ai fan di tutto il mondo.
Ma l'appuntamento più fantastico sarà sicuramente quello che animerà la città di Napoli dalle 16.30, ovvero la grande parate di cosplayer a tema Guerre Stellari, The Dark Side of Naples e della leggendaria Jedi Generation che proprio dal Museo Archeologico Nazionale di Napoli raggiungeranno in parata la Multisala Modernissimo (Via Cisterna dell'Olio, 49/59) per la proiezione del film "Solo: A Star Wars Story".
Proprio presso il cinema è stata stipulata una convenzione per tutti i fan grazie al biglietto della Mostra Mann@Hero del Museo: grazie al 2×1 Happy Cinema, per ogni biglietto acquisto se ne riceverà uno gratis per una visione del film con un'eccezionale visione immersiva con schermo Imax. Inoltre uno sconto del 50%, presso il Multicinema Modernissime il Big MaxiCinema (CE) per la visione del film dedicato al giovane Han Solo dal 26 Maggio al 31 Luglio 2018.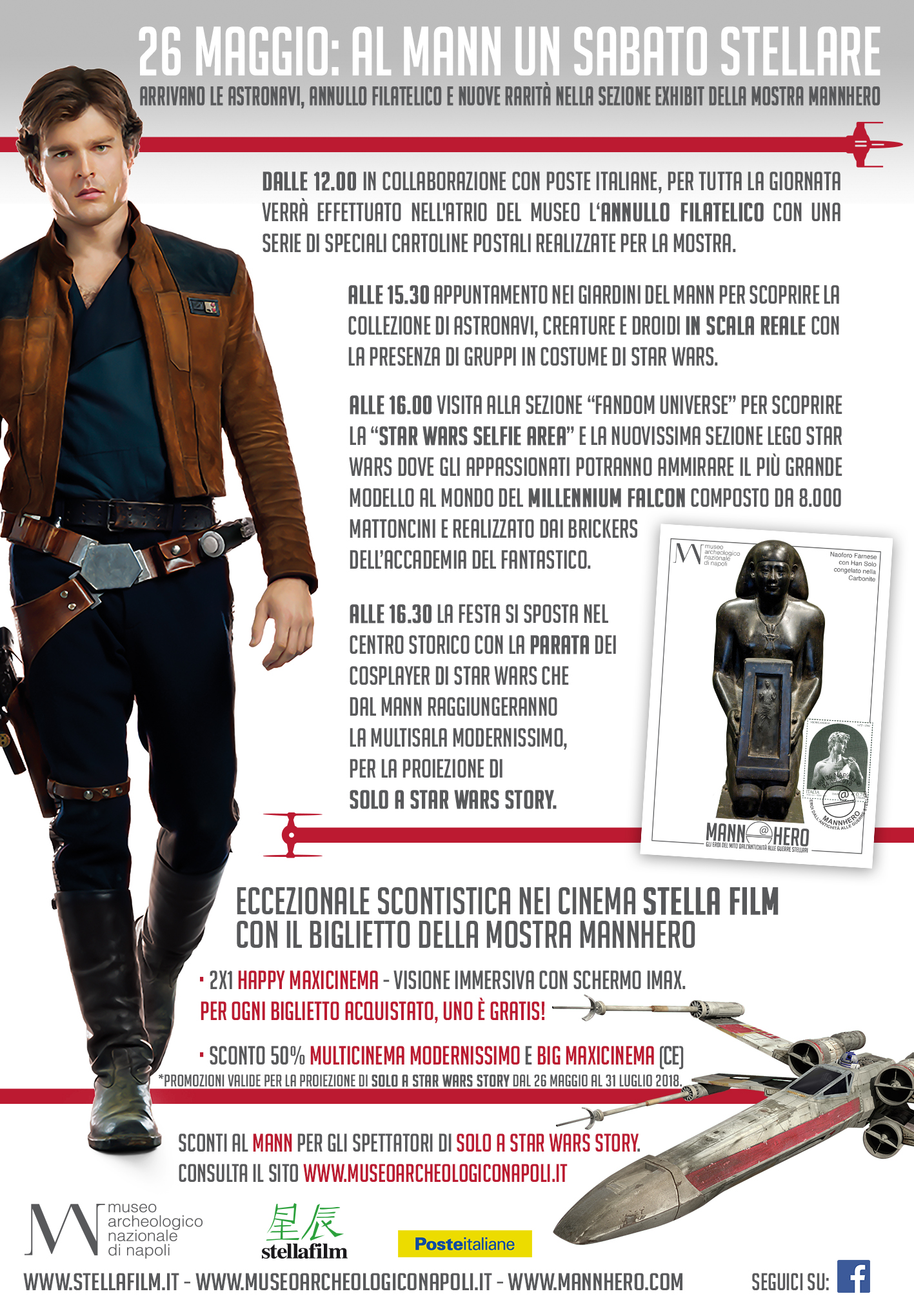 La mostra 'Mann@Hero – Gli eroi del mito dall'antichità a Star Wars', nata da un'idea del direttore del Museo Archeologico Nazionale di Napoli Paolo Giulierini, interessa gli spazi comuni e le sale del Museo: le sale al piano terra che ospitano la parte dedicata ai reperti archeologici sapientemente scelti, curati e amati dall'incessante lavoro del prof. Mario Grimaldi e della sua équipe; le sale al piano interrato che collegano la Sezione Epigrafica all'uscita della metropolitana (riaperte per l'occasione) tutte riservate alla sezione Exibit a cui si collegano le splendide ricostruzioni a grandezza naturale delle astronavi tratte dalla saga di George Lucas allestite a cura dell'associazione culturale Galaxy nei giardini del Maseo; l'atrio del Mann è invece la location d'eccezione per l'Atlante Farnese, che, insieme a numerosi pezzi eccezionali di opere d'arte appartenenti alle collezioni permanenti del Museo, sono inserite in questo percorso "stellare" grazie ad un'applicazione di realtà aumentata e virtuale realizzata dal direttore artistico dell'esposizione Ciro Sapone e dall'agenzia Italian Zeotrope. "Chi è Darth Vader, protagonista di Star Wars, se non un novello Eracle? Chi è Luke Skywalker, se non un Ulisse dei giorni nostri? – nota l'archeologo Mario Grimaldi, direttore scientifico. Se da un lato la storia che la mostra vuole raccontare si concentra sulla struttura di base degli eroi, dall'altro si proietta nel parallelismo tra due realtà che ad un primo sguardo sembrano così distanti, ma che appartengono ad una galassia vicina vicina. Rigore scientifico e analisi del dettaglio attraverso alcune macro tematiche imprescindibili per gli eroi classici e per quelli di Star Wars mostrano il vero cuore pulsante della mostra: gli eroi sono uomini. La memoria, il viaggio, la giustizia, la famiglia, le lacrime e la gloria dei vinti saranno gli snodi fondamentali che legheranno empaticamente i protagonisti greci e quelli della saga di George Lucas, immergendo il visitatore in un'atmosfera senza precedenti".
Attraverso un portale si può accedere alla sala del Cielo Stellato dove la scia dei caccia di Star Wars conduce il visitatore alla scoperta delle tre sezioni della mostra: Sezione I: 'La nascita dell'eroe' – Temi: Nascita, Famiglia, Formazione; Sezione II: 'Il viaggio dell'eroe'-Temi: Imprese, Amore, Ira; Sezione III: 'Memoria dell'eroe' – Temi: Giustizia, Gloria dei vinti, Eroine femminili.
L'area dedicata al fandom di Star Wars è stata invece realizzata grazie all'immensa collezione di Ciro Sapone che ha partecipato come volontario alle riprese di Lucasfilm di "Star Wars Episodio I – La Minaccia Fantasma" e "Star Wars Episodio II – L'Attacco dei Cloni" presso la Reggia di Caserta.
Una mostra realizzata in collaborazione con lo staff di www.starwars.it, l'Associazione Satyrnet, coordinati da Gianluca Falletta, che identifica pezzi unici che vanno dalle sceneggiature originali fino ai pezzi più rari di merchandising, da diorami con action figure originali degli anni' 70 alle ultime novità Lego. Insieme a questi pezzi unici sono state inserite alcune splendide creazioni originali di alcuni dei migliori prop-maker italiani, vere e proprie opere d'arte, interamente costruite a mano, che riproducono personaggi, mezzi, navi stellari e, soprattutto, gli iconici droidi protagonisti della saga stellare per antonomasia. Archeologia, arte, passione e creatività: sono questi gli ingredienti di un'esposizione meravigliosa. 'Mann@Hero – Gli eroi del mito dall'antichità a Star Wars' coniuga, integra e amplia l'amore per il lavoro cinematografico di George Lucas con l'obiettivo di veicolare l'interesse e il rispetto verso le uniche opere delle collezioni del Museo Archeologico Nazionale in modo nuovo, transmediale, per avvicinarsi alle nuove generazione con un linguaggio originale e sinergico che unisce la storia alle nuove esperienze grazie alle nuove tecnologie.
Jedi Generation è l'accademia di spettacolo basata sull'utilizzo della spada laser più popolare d'Italia. Nata come uno svago nella primavera del 2012, si è sviluppata in breve in spettacolo dal vivo, facendo crescere la curiosità del pubblico.A causa delle sempre maggiori richieste di chi voleva imparare l'utilizzo della spada laser, oggi è diventata una vera scuola di formazione per aspiranti Jedi e Sith.Gli allievi imparano tecniche di acrobatica, interpretazione e di spada, suddivise nei vari stili, che i fan della saga conoscono, e livelli. L'allenamento talvolta può essere duro, ma serve per portare spettacolo anche al pubblico più esigente. Infatti, fa si che si possa rotolare sui terreni più duri, fare acrobazie e combattimenti anche in spazi ridotti, il tutto recitando una parte che può essere quella dello Jedi o del Sith. Grazie alla collaborazione con la Rebel Legion e la 501st Legion, Jedi Generation si è esibita ai comics più importanti del nord Italia, ad eventi Disney, Lego, Hasbro e con Sky Cinema. Sotto la guida dell'istruttore Emanuele Terzano, l'accademia sta ora allargando i propri orizzonti con nuovi corsi. Jedi Generation è apprezzata da adulti e bambini, dando la possibilità di provare la spada laser e di combattere, anche con i personaggi visti nella saga. http://www.jedigeneration.it/