Continuando la nostra ricca, ricchissima carrellata sul mondo di Star Wars, questa volta ci concentriamo sui giochi, e di questo settore se ne potrebbe aprire non solo una parentesi, ma anche qui un intero universo, e pian piano lo faremo.
Tra i vari giochi che sono stati realizzati, vi è un settore molto particolare che riguarda il genere dei giochi da tavolo. Durante gli anni infatti, ne vennero realizzati varie tipologie, come le versioni Risiko e Monopoli, tanto per fare un esempio, ma quello di cui vi parlo oggi, è una fusione tra gioco da tavolo e mattoncini. Poco dopo il 2010, la Lego con il benestare della Lucasfilm, realizzò un gioco da tavolo, fondendo i due punti forti di entrambe le aziende: i mattoncini, per quanto riguarda la famosa azienda Danese, e la saga di Star Wars per quanto riguarda il marchio di George Lucas.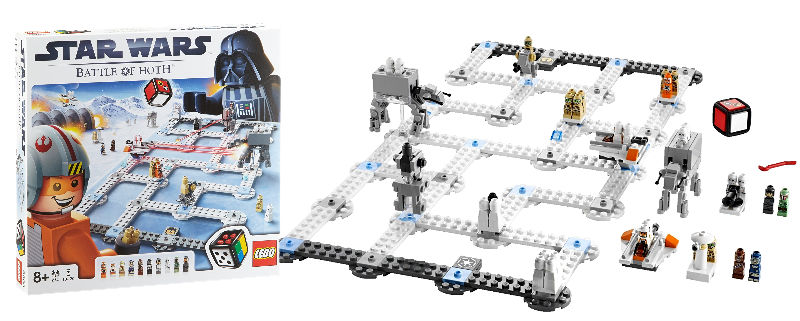 Da tale collaborazione nacque il gioco "Star Wars Battle of Hoth", per chi conosce la saga, ovviamente il gioco prende spunto dal film "Star Wars episode V Empire Strike Back", e più precisamente, della titanica battaglia tra l'Impero e i Ribelli sul pianeta ghiacciato di Hoth.
All'interno della scatola troviamo il libretto di istruzioni e tutto l'occorrente per giocare, tutto rigorosamente in mattoncini Lego. Vi sono vari pezzi che servono per riprodurre la plancia di gioco, di colore bianco, per riproporre lo scenario di ghiaccio del pianeta, poi vi sono le versioni in miniatura dei vari veicoli protagonisti di tale battaglia, i mastodontici At-At Imperiali, gli At-St sempre Imperiali, i caccia Snowspeeder della Ribellione, compresi anche le torrette di cannoni laser a difesa, il tutto poi è arricchito da piccolissime mini-figure, dettagliatissime che rappresentano le forze in campo: gli Snow Troopers, i piloti di At-AT e At-St, i piloti ribelli e le forze di terra ribelli, e anche i protagonisti della serie, vi sono, infatti, anche le figure di Darth Vader, Han Solo, Boba Fett, Luke Skywalker, Chewbecca e il Generale Veers.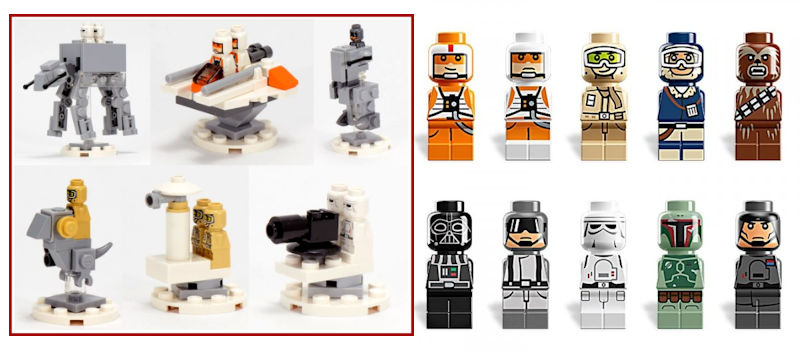 Lo svolgimento del gioco è molto semplice quanto complesso, vi sono ovviamente le due forze in campo Impero e Ribelli, e lo scopo principale per poter vincere, dipende dalla parte in cui vi siete schierati: l'Impero per vincere deve arrivare alla base ribelle, mentre i Ribelli devono resistere contro le forze Imperiali. Poi, come suggerito nel libretto di gioco, le varie missioni si possono modificare o ampliare, così che il gioco sia sempre ricco di nuove azioni. Il bello di questo gioco, visto che è compatibile con tutti i mattoncini della serie Lego, è che si possono aggiungere pezzi per ampliare la plancia di gioco, variandone il percorso più e più volte, oppure realizzare altri veicoli per aumentare la forza bellica in campo di entrambe le fazioni.
Ora questo gioco è quasi introvabile, ed è un vero peccato, sia che non sia stato riprodotto sia che non abbiano fatto anche gli altri scenari bellici della saga. Si tratta di un gioco appetibile sia per gli appassionati di gioco da tavolo, per via della sua peculiarità derivata dai mattoncini che gli dona una giocabilità pressoché longeva e variabile, sia per quanto riguarda gli appassionati di Star Wars. Il bello di poter vedere ricostruito in piccolo uno dei momenti più emozionanti della saga, Star Wars Battle of Hoth, mi porta a considerarlo uno dei più bei giochi che sia mai stato realizzato su Star Wars, infatti la mia copia del gioco è al sicuro nella mia collezione. A chi ne è in possesso consiglio di tenerla stretta stretta, visto la difficile reperibilità, per chi non l'avesse presa all'epoca e vorrebbe averne una copia, la consiglio, ovviamente facendo attenzione al suo costo.
Alla prossima!
By Marco Talparius Lupani