Quest'anno lo Star Wars Day si svolge "da casa". Il prossimo 3 Maggio 2020 la  501st Italica Garrison, Rebel Legion Italian Base, Ori'Cetar Clan – Italy MMCC e Saber Guild vi aspettano per festeggiare insieme a tutti i fan di Star Wars il Giorno dedicato alla Forza, con l'ormai mitico augurio "May the fourth Be With You", in un ricchissimo evento online realizzato da su It Comics Channel.
Star Wars, la saga cinematografica (e non solo) ideata da Georges Lucas che da più di quarant'anni conquista il cuore di milioni di fans, ha la sua giornata speciale: il 4 maggio di tutti gli anni infatti i fans di tutto il mondo si radunano in parate ed eventi dedicati ai loro eroi, che siano coraggiosi soldati ribelli, perfidi assaltatori imperiali o mandaloriani senza scrupoli. Perché il 4 Maggio è lo Star Wars Day? Nel 1978 furono proprio i fan delle celebre saga a creare "May the fourth Be With You", una simpatica variazione del leggendario slogan del primo film di Star Wars: "May the Force Be With You" (Che la forza sia con te). All'inizio, infatti, il gioco di parole venne utilizzato dai fan statunitensi in occasione delle celebrazioni del 4 luglio. L'anno successivo acquistò un ulteriore significato quando, il 4 maggio 1979, apparve un'intera pagina sul London Evening News, come augurio alla neo premier britannica Margaret Thatcher per l'incarico che avrebbe assunto proprio quel giorno: "May the Fourth Be With You, Maggie!" ("Che il 4 maggio sia con te, Maggie!")
Da qualche anno tale ricorrenza viene festeggiata con entusiasmo anche in Italia con eventi a cui partecipano alla grande la 501st Italica Garrison e la Rebel Legion Italian Base, gruppi di costumers ufficialmente riconosciuti da LucasFilm, formati da centinaia di membri il cui costume viene approvato da giudici esperti affinché corrisponda il più precisamente possibile a quelli usati sui set dei film. Da quest'anno si unisce a loro anche l'Ori'Cetar Clan, ossia il clan italiano dei Mandalorian Mercs, il gruppo internazionale che raduna i mandaloriani, ossia i cacciatori di taglie presenti in molti film della saga e ora protagonisti della serie di successo "The Mandalorian". Tra le passate edizioni da ricordare la grande parata intorno al Colosseo di Roma nel 2014, quella dall'Arena Civica al Duomo a Milano nel 2015, il raduno al Museo del Fumetto nel 2016, la grande kermesse alla Reggia di Caserta (set del secondo episodio della saga) nel 2018 e quella sulla gradinata in Piazza di Spagna lo scorso 2019. Quest'anno purtroppo l'emergenza sanitaria vieta qualsiasi assembramento, ma le tre "legioni" non rinunciano alla festa e hanno organizzato una lunga diretta facebook per stare vicini ai loro fans e passare una giornata all'insegna della "Galassia lontana lontana".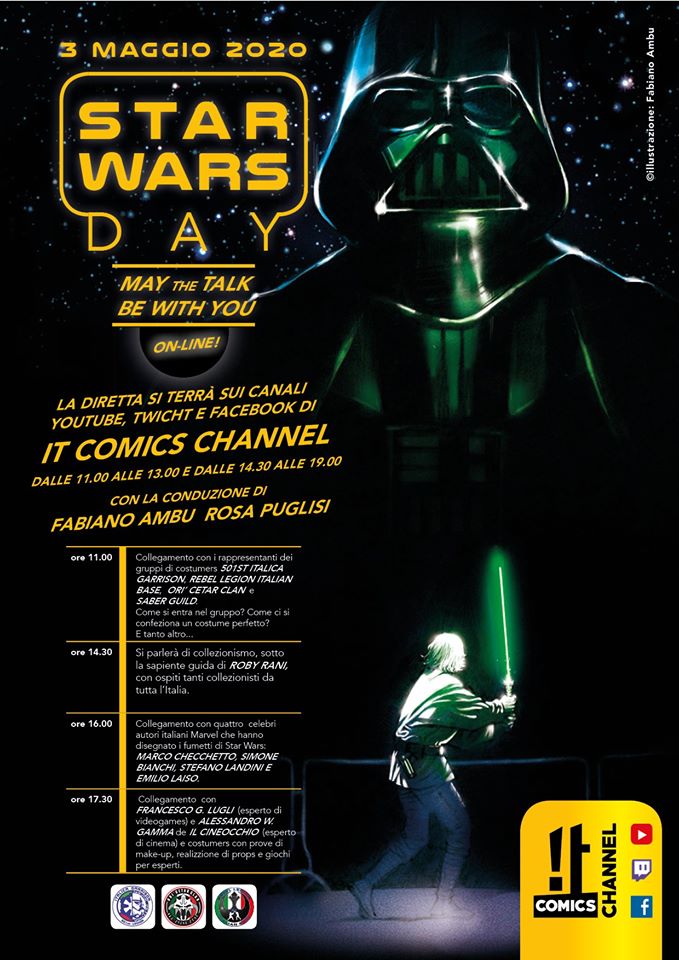 La diretta si terrà sui canali Youtube, Twicht e Facebook di It Comics Channel con la conduzione di Fabiano Ambu, Rosa Puglisi ed Enrico Ercole, dalle 11.00 alle 13.00 e dalle 14.30 alle 19.00.
• Nella mattinata, dalle ore 11.00 alle ore 13.00 ci sarà il0c ollegamento con i rappresentanti dei gruppi di costumer 501st Italica Garrison, Rebel Legion Italian Base, Ori'Cetar Clan – Italy MMCC e Saber Guild. I membri delle Legioni spiegheranno il modus operandi su come entrare nelle loro fila e come confezionare "il costume perfetto". Ci sarà anche un momento "amarcord", nel quale ricordare tutti assieme le scorse edizioni del 4 maggio con foto e filmati. Il pubblico da casa potrà fare domande e togliersi tutte le curiosità su come ci si confeziona un'armatura da Stormtrooper, una spada laser personalizzata o una tuta da pilota ribelle.
•Nel pomeriggio, dalle 14.30 alle 16.00, si parlerà di collezionismo: Sotto la sapiente guida di Roby Rani ci si collegherà con importanti collezionisti italiani per parlare di pezzi introvabili, set Lego, serie preziose e ogni curiosità su questo vastissimo mondo che oggi vede sul mercato migliaia di action figures, caschi, spade laser, repliche, costumi e ogni altro genere di materiale collezionabile.
• Dalle 16.00 alle 17.30 saranno in collegamento i quattro autori italiani che hanno disegnato i fumetti di Star Wars ma che sono anche tra i più celebrati disegnatori Marvel: Marco Checchetto, Simone Bianchi, Stefano Landini e Emilio Laiso. Per la prima volta assieme, i quattro disegnatori sveleranno i segreti che si nascondono dietro alla nascita di albi a fumetti che hanno appassionato milioni di fans in tutto il mondo. Partecipa all'incontro Giorgio Bondì di Star Wars Libri & Comics.
•Dalle 17.30 alle 19.00 la diretta proseguirà con ospiti Francesco G. Lugli (esperto di videogames)e Alessandro W. Gamm A de Il Cineocchio (esperto di cinema) e i fans che racconteranno la loro passione parlando di cinema e rispondendo a qualche domanda che metterà alla prova la loro conoscenza della saga. In più si terranno collegamenti con legionari che mostreranno come si veste un'armatura, che differenza c'è tra le varie versioni di Darth Vader (e sì perché in ogni film la sua armatura cambia), come si crea una prop e come si crea un trucco perfetto. Nel corso di tutta la diretta verranno trasmessi saluti ai fans di personalità e amici.
L'evento "May the Talk be with you" nasce con l'obiettivo di collegare idealmente "da casa" tutti i fan di Star Wars italiani: una grande famiglia che continua ad incontrarsi in maniera proattiva anche in questo momento difficile di Pandemia globale. Anzi: le azioni benefiche delle Legioni di Star Wars, e di Galaxy club, l'associazione culturale che le racchiude, non si sono mai fermate anche grazie al progetto di raccolti fondi #GALAXYWONTSTOP con l'obiettivo di supportare l'acquisto di Respiratori per le rianimazioni o per le unità di crisi realizzate con i mezzi e gli spazi del caso, in zone o reparti ospedalieri: per info www.galaxyclub.org.
Per partecipare all'evento Facebook e scoprire tutte le informazioni: facebook.com/events/2624550841122589/ o il canale youtube youtube.com/c/ItComics
La 501st Italica Garrison il distaccamento Italiano della 501st Legion, un'organizzazione mondiale di appassionati di Star Wars che possiedono ed indossano i loro costumi di natura "imperiale". La mission del gruppo, che ad oggi conta oltre 7000 membri attivi in più di 100 Garrison suddivise in tutto il mondo, si riassume in 3 punti fondamentali: promuovere Star Wars, celebrare la sua mitologia e promuovere il marchio, dando ai fan una comunità nella quale farlo; portare nella realtà il fascino dei costumi della saga, studiando, realizzando ed indossando questi costumi, per soddisfazione personale (hobby) e per l'intrattenimento del pubblico che può finalmente interagire dal vivo con gli spettacolari personaggi della saga; – contribuire alla comunità utilizzando questi costumi e le nostre risorse collaborando con associazioni benefiche, visite negli ospedali e contribuendo con raccolte fondi destinate ad aiutare chi è meno fortunato di noi. Nel 2013 le attività della 501st hanno raccolto ben 16 milioni di dollari in tutto il mondo! http://www.501italica.com/
La Rebel Legion è una organizzazione internazionale di costuming di Star Wars, creata da e per chi è interessato nel replicare costumi relativi al mondo di Star Wars: Jedi, piloti e truppe ribelli, principesse e anche Wookiee…non manca nessuno! Grazie alla serietà dimostrata ed all'accuratezza dei costumi, la Rebel Legion è stata riconosciuta ufficialmente dalla LucasFilm come principale associazione mondiale di costuming per i "ribelli" di Star Wars. La Rebel Legion è cresciuta fino a diventare l'organizzazione internazionale che è oggi: più di 2000 membri in oltre 28 paesi in tutto il mondo, con 57 basi di diversi stati, diventando il primo gruppo di costumi ribelli nella comunità starwarsiana. Rebel Legion Italian Base, nata del 2005, è la sezione italiana del gruppo internazionale di costuming ribelle Star Wars. http://www.rebellegion.it/
La Saber Guild è un organizzazione senza scopo di lucro che si occupa di eventi di beneficenza e volontariato. Tramite spettacoli coreografici di spada laser ed i suoi costumi, mira ad aiutare il prossimo e a diffondere la passione per l'immenso universo di Star Wars. Saber Guild è una delle quattro organizzazioni internazionali ufficialmente riconosciute dalla Lucas, insieme a Rebel Legion Italian Base e 501st Italica Garrison, Saber Guild Roma è la prima divisione aperta in italia. Determinati a portare il sorriso sui volti di grandi e piccoli, trasformando la passione in un faro che porti speranza, la Saber Guild è sempre alla ricerca di nuove collaborazioni per sviluppare progetti culturali e di beneficenza. http://www.saberguildroma.altervista.org/
Fondata nel 2007 da Tom Hutchens, il Mandalorian Mercs Costume Club è cresciuto velocemente diventando la terza realtà internazionale di fan di Star Wars. Si tratta di  un'organizzazione internazionale di costumi Star Wars dedicata a celebrare l'universo creato da George Lucas attraverso la creazione, la promozione e l'utilizzo di costumi di altissima qualità che rappresentano i personaggi e la cultura Mandaloriana dalle saghe di Guerre Stellari. Mandalorian Mercs Costume Club unisce in tutto il mondo le persone che condividono l'amore per i personaggi della saga stellare, in particolare  la cultura / personaggi dei Clan Mandaloriani, incoraggiando l'auto-miglioramento, la crescita personale, il coinvolgimento familiare e la collaborazione con i coetanei in particolare creando e partecipando ad eventi di beneficenza a carattere volontario. L'Ori'Cetar Clan – Italy MMCC è la versione italiana di questo club: se avete un'armatura nel cassetto e se volete entrare anche voi nel Clan Italiano non dovete far altro che contattare il gruppo all'indirizzo https://www.facebook.com/italystronghold/